Milt Kahl was a born artist and a perfectionist who went on to become one of the most transformative figures of the Disney empire. Learn about his life here!
Perhaps one of my favorite things about Disney is this: At first, it's all sparkle and magic. Whether you're visiting the parks or enjoying Disney movies, every bit of it is captivating in some of the most imaginative ways possible. And then, when you look deeper, you start to notice the real genius behind it all. Underneath the parks, the rides, the attractions, the movies, you'll find a level of craftsmanship that just isn't all that common.
If we're speaking of Disney genius and craftsmanship, then we must talk about animator Milt Kahl. Some refer to him as the "master puppeteer,"—and among all Disney animators, he is one of the most legendary. In fact, he was part of the Nine Old Men, a prominent group of animators responsible for so many Disney classics. Let's dive into his story so that we can be inspired by his talents and accomplishments.
A Born Artist
Like so many of Disney's most famous animators, Milt took a circuitous route that eventually landed him a career with Disney. He was born in San Francisco on March 22, 1909, and as a teen, attended high school there. One of the things that guided Milt's early life was that his family was very poor. This led him to dropping out of high school and—quite fortuitously—pursuing his dream of becoming a cartoonist or illustrator for magazines.
---
---
He mainly looked at work for magazines and newspapers, and it was during this time that he began work with the Oakland Post-Enquirer, where he would paste up layouts and retouch photographs. At the Post, he managed the art department and also became good friends with Ham Luske, who would later go on to a Disney career of his own as one of the Four Young Men who were trained by the Nine Old Men, the group that Milt would eventually become a part of.
After time spent with the Post, Milt moved on to the San Francisco Bulletin. But then the depression hit, and the Bulletin laid him off. He went into business for himself, starting his own commercial art studio, but with the Depression, business was slow.
During the Depression was when he saw his first Disney short, Three Little Pigs. This was at a local theater, and he was so captivated by it because, in it, he saw opportunities to transfer his skills to animation.
That's what led him to apply directly at Walt Disney Studio in June of 1934. Well, that and a tip from his old friend Ham, who had gotten a job with Disney and urged Milt to move to Los Angeles and do the same. Milt went for the job and was hired on as an assistant animator, where he began work on several Disney shorts. Some of these included Mickey's Circus, Lonesome Ghosts, and the Oscar Award winning The Ugly Duckling. Some of Milt's other accomplishments during his time with Disney include work on Lady and the Tramp, One Hundred and One Dalmatians, Melody Time, The Adventures of Ichabod and Mr. Toad, Cinderella, The Rescuers, and The Jungle Book.
A Legendary Career
One of the most inspiring things about Walt Disney was that he rewarded talent where he saw it—and that is illustrated in one story told by one of Milt's fellow animators, Ollie Johnston. During the production of Pinocchio, Freddie Moore barged into Ollie's office and said, "Hey, you ought to see the drawings this buy Milt Kahl is doing!" Milt's work on this film was incredible—so much so that Walt Disney ended up naming him the supervising animator over Pinocchio.
The story behind Pinocchio is almost as interesting as the film itself. By June 1938, the film had been in production for a while—but Walt Disney wasn't happy with it. "People know the story," he said, "but they don't like the character." Work proceeded on the film for six months, and then Walt made the decision to scrap the entire project and start over from the beginning. All along, Milt had been among the voices calling for a re-design of the Pinocchio character, citing the idea that as a wooden puppet, the original design just wasn't all that likeable. With the project restarted, Milt took over and focused on transforming the original Pinocchio into the adorable character that we know and love today.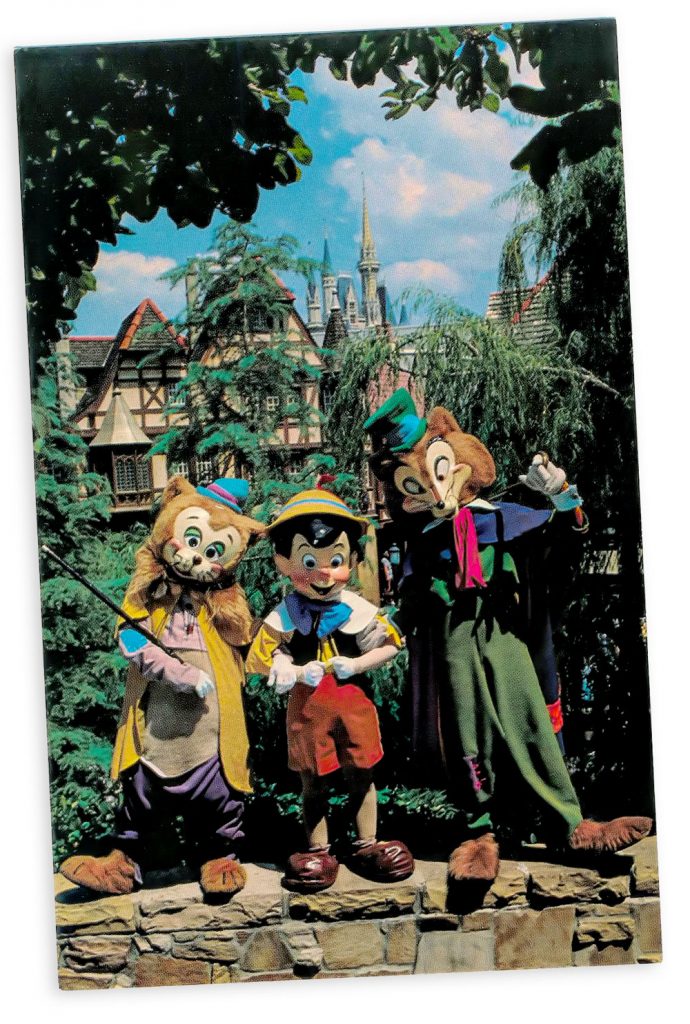 Watch out Pinocchio! (Postcard)

Pinocchio relaxes with his two "friends" Foulfellow and Gideon in Fantasyland. This is the happiest land of them all, where guests meet dozens of famous characters "come to life" from Disney animated film classics.
Similar happened during the early stages of production for The Sword in the Stone. Milt was making some of the first rough drawings when Woolie Reitherman took a look at them and said, "These things look so beautiful, they could hang in a museum." Milt, ever the bashful sort, replied "Aw… You're full of it!"
Throughout the tale of Milt's career, you'll find this theme again and again. He gained a lot of recognition for shorts belonging to the Silly Symphonies series and for things like Ferdinand the Bull. His craftsmanship was such that he was often given the most difficult of tasks: animating human characters. This included Prince Phillip from Sleeping Beauty, Alice of Alice in Wonderland, and Peter Pan himself.
He didn't just animate people, though. Many of Disney's most iconic animal characters numbered among his accomplishments, too. Bambi is one such character, plus he animated several characters from Song of the South, including Brer Rabbit, Brer Fox and Brer Bear. If you recall the snooty llama in Saludos Amigos, that was Milt's work, too!
Perfectionism Personified
One of the most interesting things about Milt was that he was a true perfectionist, refusing to settle for less than the best, and he had an explosive temper that would flare when he was unhappy with his results. This is also what made him a natural leader, because he expected the same perfection from his colleagues as he demanded from himself. His fellow animators came to respect him, and they even came up with ways to deal with his temper. Walt Disney himself once famously said,
"The way to handle Milt is to let him cool off for a couple of days and then talk to him."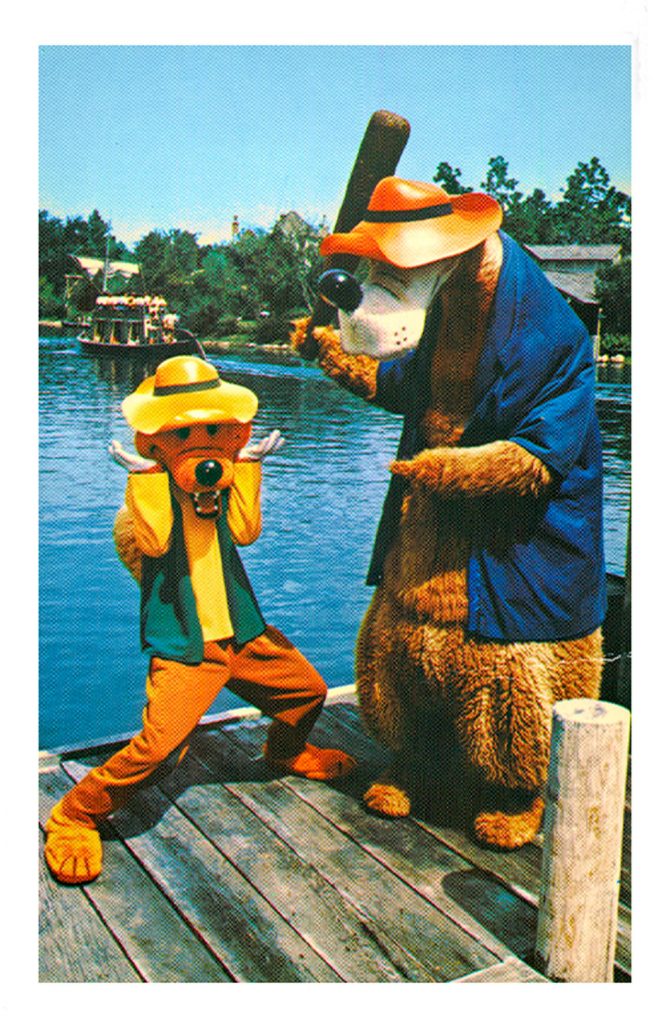 I'm gonna knock your head clean off! (Postcard)
Brer Bear threatens to knock Brer Fox into Frontierland's Rivers of America. Walt Disney's classic characters "come to life" throughout the Magic Kingdom to the delight of visitors of all ages.
Milt worked with Disney for almost 40 years. His retirement came in 1976, and after that, he returned to the Bay Area where he'd grown up so that he could pursue other arts. Most notably, this included creating dancing ballerinas and other figurines sculpted with fine wire. He enjoyed a long, fruitful retirement until his death on April 19, 1987.