Ub Iwerks is known as an instrumental player in making the Walt Disney Company what it is today, and he was with the company from the beginning. In fact, he and Walt Disney were friends long before there was a Walt Disney Company, being young animators together in the emerging industry. Here is his story.
Ub Iwerks is usually referred to as Walt Disney's oldest friend. They met when they were both nineteen and just starting out in the world of animation. The two of them eventually went into business together, had a falling out, went their separate ways, and then came together as friends and business associates once more. Their story and Ub's individual one is quite interesting, and an important part of Disney history.
Ubbe Ert Iwwerks was born on March 24, 1901, to Dutch-American parents in Kansas City, Missouri. His father was Eert Ubbe Iwerks, who came to the United States from the village of Uttrum in East Frisia, which was then a part of northwest Germany, and what is now the city of Krummhorn. He came to the United States in 1869. When his son grew up, he shortened his name to Ub Iwerks, though the original, longer name can be seen in the credits for some early Alice in Wonderland comedy cartoon shorts he did for the Disney company. He sometimes used the initial form of his name, too — U.B. Iwerks. But, usually, he was just known as Ub.
Ub's descendants would take on the Disney tradition in the family, too, with his son Don and grandson Leslie both doing work for the Disney company. Leslie is also a documentary producer.
---
---
In 1919, Ub and Walt were both young men working at the Pesmen-Rubin Commercial Art Studio and became friends. When they were laid off at the same time as the company experienced financial issues, they opened their own business together and called it Iwerks-Disney Studio Commercial Artists. They put Ub's surname first because they decided using Disney's name first would make the company — Disney Iwerks — sound too much like it manufactured eyeglasses. The two worked at their new business together for only a month before they both accepted jobs at the Kansas City Slide Company.
After working at this place for a while (which eventually changed its name to the Kansas City Film Ad Company), Walt decided he wanted to work in animation, and Ub joined him in this venture soon after. When Walt started his Laugh-O-Gram studio in 1922, Ub came on board as the chief animator. After the studio went bankrupt in 1923, Ub followed Walt to Los Angeles to work with him on Walt's new series of animated short comedies about Alice in Wonderland. These shorts mixed live-action with animation and were quite innovative for their time.
After the series was done, Walt wanted to design a brand new character that was unique to his company. He asked Ub to draw a character called Oswald the Lucky Rabbit. A cartoon starring Oswald soon followed, and Ub did all of the animations for this project.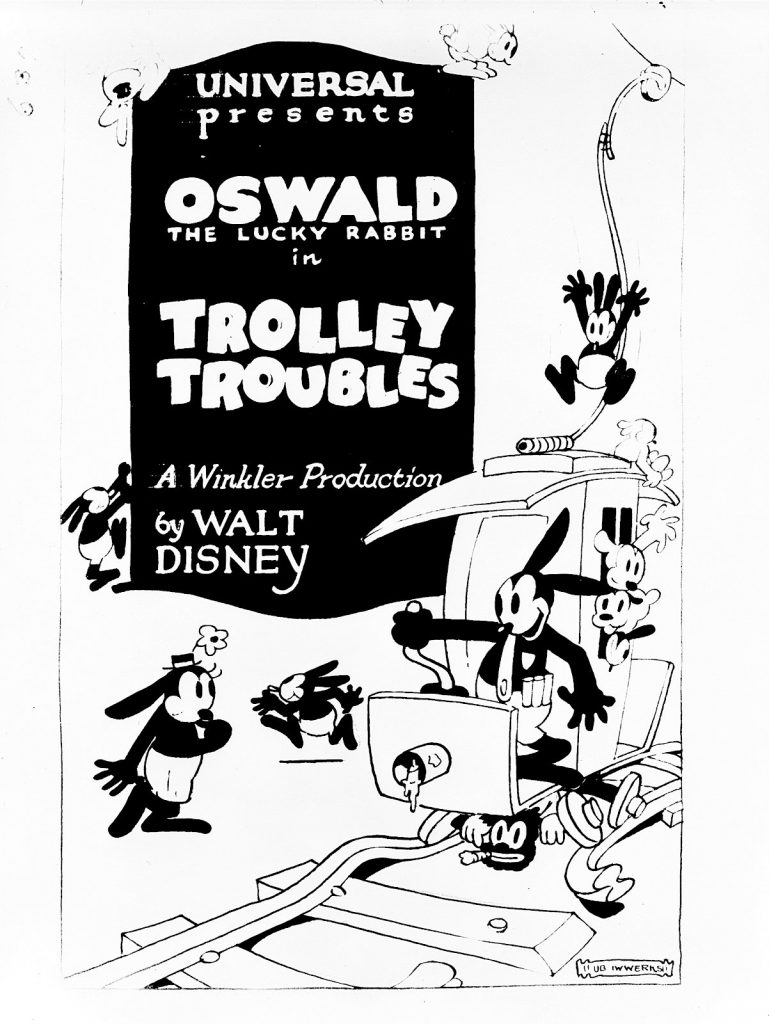 Oswald, however, was technically owned by the distributor for Walt's cartoons, Universal Pictures, and they wanted Oswald to be re-designed. Walt and Ub complied, but they were both eventually removed from future projects involving Oswald, even though they created him. At the time, most of Walt's staff was recruited and hired by Winkler Pictures, the production company for Universal Pictures. Walt vowed to never create a new character that he did not own. This proved to be a legend-making decision, as Ub stayed with Walt, and they both began drawing new character ideas. After several ideas involving different animals, Walt came up with the idea and original basic design of what would become Mickey Mouse. He gave his initial sketch to Ub, who cleaned it up and refined it, creating the Mickey Mouse we know today.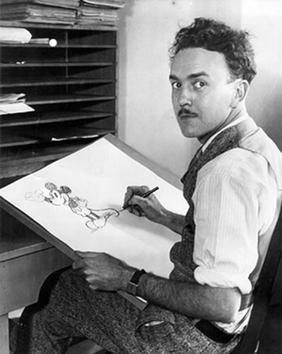 The first few Mickey Mouse cartoons were animated by Ub almost entirely. He enjoyed it at first, but his friend Walt was now also technically his employer; they did not co-own Disney Studios as they did their first business together. Walt became more demanding with Ub, and even grumpy and mean to him, while Ub felt like he wasn't receiving the credit he deserved for drawing all of the successful Disney Studios cartoons to that point. The two friends eventually had an argument and ended both their friendship and their business association in 1930 when Ub took a job with Pat Powers, who was at the time the major competitor to Walt in the animation world.
With his contract from Pat Powers, Ub started an animation studio using his own name. Iwerks Studio opened in 1930 and had many enthusiastic financial backers who believed Ub to be responsible for much of Walt's success. In fact, the fortunes of the Disney Studios did suffer for a while after Ub's departure but eventually bounced back when Walt hired a new crop of young, talented animators.
Ub worked on his own company for the next decade and had his own successes, but none that made the history books or the public lexicon of entertainment like Walt. After a decade on his own, Ub came back to the Disney Studios, where he worked on technical development. In fact, he was so good at it that he became known at Disney Studios as the resident technical wizard. Ub invented new technologies that revolutionized feature-length animation projects. One such invention of Ub's was a multi-head optical printer that was used to more easily combine live and animated recordings.
Ub eventually went on to win two Academy Awards for designing the improved optical printer, and for collaborating on perfecting color traveling matte photography. Ub's innovations allowed Disney Studios to reach the forefront of technology in photographic effects.
Ub was even involved with theme park development with the Disney company in the 1960s. He helped design It's a Small World, Great Moments with Mr. Lincoln, and the Hall of Presidents. One of the last projects he worked on for the Disney company was innovations for the new Walt Disney World project, while it was still in development.
Ub passed away in 1971 in Los Angeles, five years after his friend Walt. Today, he is known as a true Disney legend and an instrumental figure in making the Disney company what it is now.