Bill Evans was a landscape designer and architect at the Disney theme parks for more than forty years. Even after retirement, he offered his freelance services to the company. Every Disney park in the world has at least some of his work in it. This is the story of this remarkable and talented man who is so admired.
Morgan "Bill" Evans was born on June 10, 1910, in Santa Monica, California. As a child, he learned about botany from his dad. In fact, his dad was a second-generation botanist and hoped to make Bill the third generation botanist in the family. Bill wasn't quite ready to commit to a career at such a young age, and when he turned 18, he joined the Merchant Marine. In this job, he traveled the world on the ship the SS President Harrison. This proved to be a valuable experience for Bill, as it exposed him to many different cultures and taught him how to be an independent man in the world.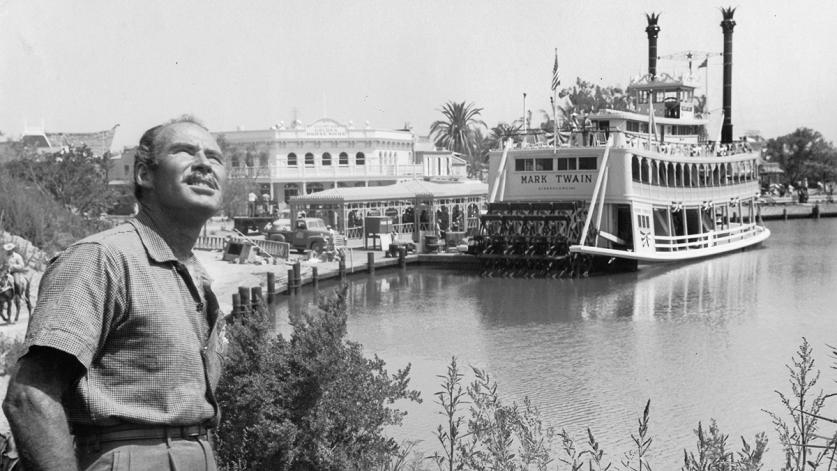 Yet, he did not totally forget about botany, even while traveling around the world. He gathered unique and interesting seeds for his dad's garden in the different countries he visited.
Once his tour of duty was done, Bill enrolled at Pasadena City College. Later, he transferred to Stanford University. At Stanford, he majored in geology, but he did not graduate. Instead, he left school in 1931 because of the Great Depression. Once he left school, he went home and helped his dad transform the family garden into a nursery business. Because of the unique and exotic seeds he'd sent from around the world, he and his dad were able to make a good living for their family during this difficult economic time for the country by selling extremely exotic and hard to find plants to the elites of Hollywood.
One of the customers of the new nursery business was Walt Disney. He was so impressed with what Bill and his dad were doing that he asked Bill to landscape the grounds of his house in Holmby Hills. Walt also asked Bill to re-design the surrounding gardens of the house. Walt was duly impressed by Bill's work, and that of Bill's brother, Jack, who assisted Bill in the landscaping. Because he thought they were such skilled landscapers, Walt offered Bill and Jack jobs landscaping the land that would become the Disneyland theme park
---
---
Bill and Jack got right to work and enjoyed their new job. In fact, it took Bill less than a year to turn eighty acres of orange groves in Anaheim, California into a variety of lushly landscaped theme park attractions. Bill did a lot of work on the grounds of Disneyland, but one of his most famous and prominent pieces of landscaping work was on the Jungle Cruise ride. This ride went along the path of a man-made river, and Walt was demanding in what he wanted it to be.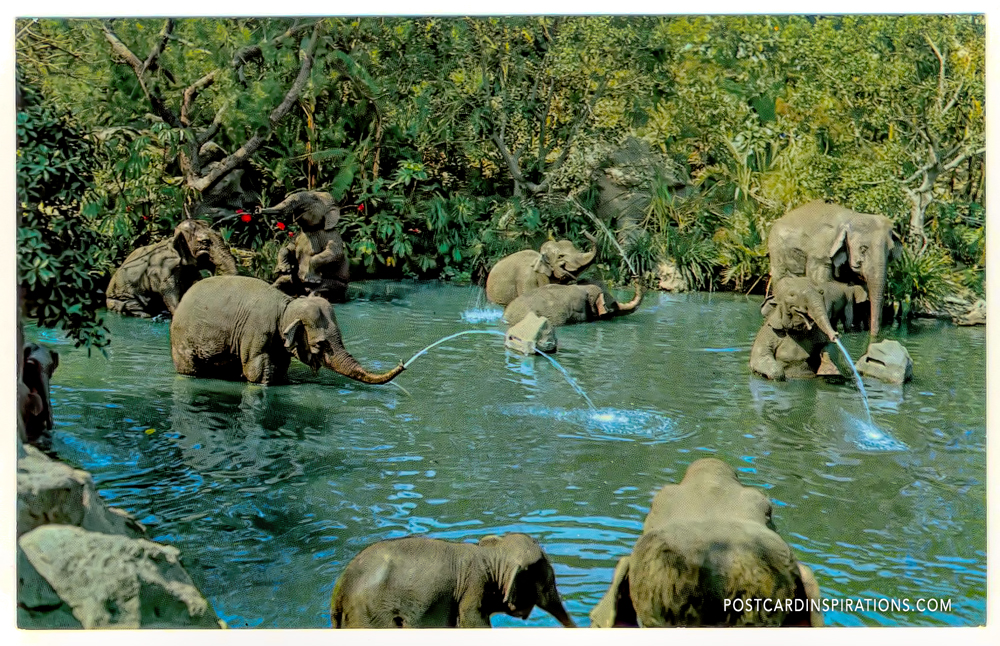 Elephant Bathing Pool in Adventureland (Postcard)
Playful Indian elephants, at home in their own in chanted bathing pool, have a truck full of watery surprises for guests on a cruise down the rivers of adventure Inn Disneyland.
In Walt's words, the grounds of the Jungle Cruise ride were to be "the best darn jungle this side of Costa Rica." Bill created a jungle wonderland of bamboo, ficus, and palms that canopied the area of the ride, providing tree cover up to seventy feet high. Bill even got to exercise his creativity when making these common plants look like exotic jungle shrubbery. He had the brilliant idea to plant walnut trees upside down in order to make the twisty roots look like crazy jungle tree branches.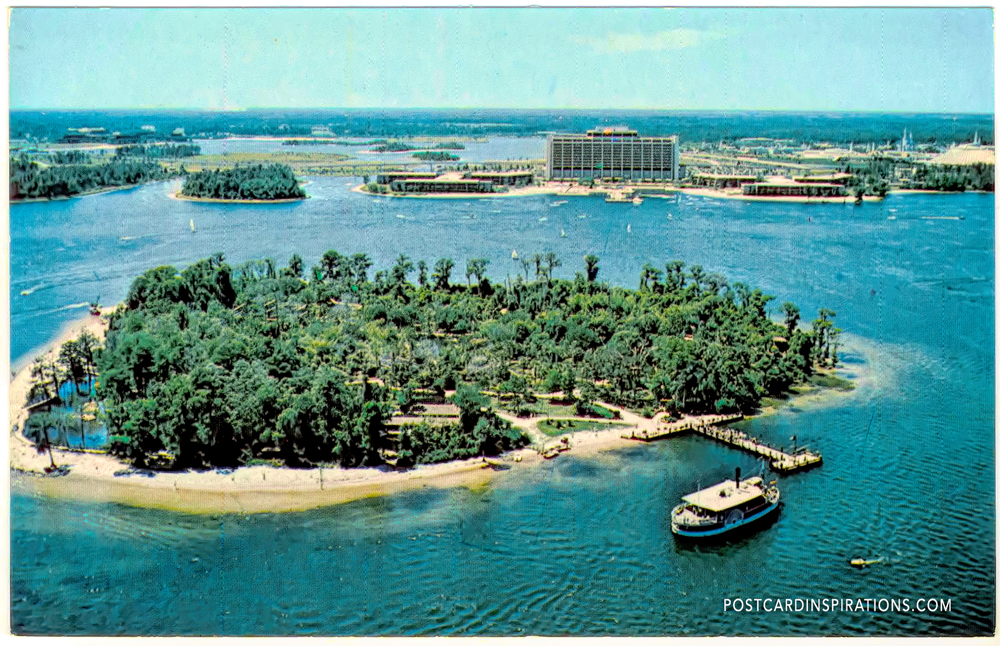 Discovery Island (Postcard)

Pathways amble through a landscape lush with tropical blossoms. And more than 400 exotic birds run free in the world's largest walk-through aviaries.
When Disneyland opened in July 1955, Bill was offered the opportunity to stay on at Disneyland, and he gladly accepted this offer. Bill performed a lot of jobs at the park, including being a landscape planner, maintenance supervisor, and landscape consultant. Not too long after beginning his job at Disneyland full-time, Walt Disney made Bill the Director of Landscape Architecture for the park. In this position, Bill worked on many additions to the Disneyland park, as well as on projects at Walt Disney World and EPCOT Center in Florida.

Bill had a long and illustrious career with the Walt Disney parks, one that spanned around forty years. While he officially retired from the Walt Disney Company in 1975, Bill continued to do freelance work for the company, including helping with the landscape design for Tokyo Disneyland, Hong Kong Disney Land, Disneyland Paris, and additions to the Walt Disney World park in Florida. Some of the additions at Walt Disney World that he worked on after his retirement included Typhoon Lagoon, Discovery Island, Disney's Polynesian Resort, Disney's Animal Kingdom, and Disney-MGM Studios Park. Bill's landscape stamp can be seen on virtually all of the Disney parks in the world, even today.
---
---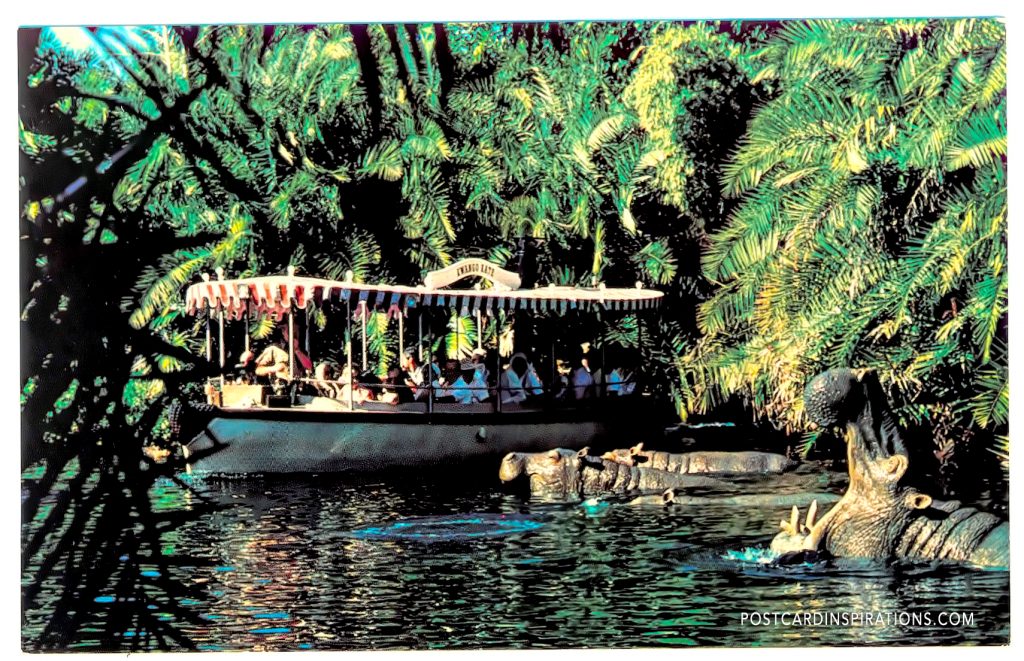 Jungle Cruise (Postcard)
Adventure lurks at every bend on the winding rivers as guests enjoy an explorer's boat cruise in Adventureland.
As for his personal life, Bill married as a young man and had a son and a daughter. After his first wife, Jane, died before him, he married a second time to Natalie Scott. Natalie had two teenage daughters of her own that she brought to the marriage, giving Bill step-daughters. Both of his marriages were reportedly very happy ones, and his son and daughter from his first wife lived near him in northern California after they grew up and made households of their own.

While his work at the Disney parks kept him very busy, Bill also found time to be a trustee for the Los Angeles Arboretum, a writer for Sunset Magazine, and a fellow of the American Society of Landscape Architects.
Polynesian Village Resort (Postcard)
Lush tropical gardens around 11 native longhouses containing 855 rooms. Guests enjoy swimming, boating, and acres of white sand. At night, native dancers entertain at grand luaus.
Bill Evans died on August 16, 2002, at age 92, in Malibu, California, after a long and happy life in which he got to indulge in the things that he loved the most every day, and even got to make a career out of his passion for landscaping. After his death, Bill was posthumously awarded the American Society of Landscape Architects Medal. This medal was awarded later in 2002 to recognize Bill's abundant and marvelous achievements and contributions to the profession of professional landscape architecture.

There are not too many people in the world who are talented enough with plants and architecture to make the magical world of the Disney theme parks come to life. Bill Evans was one of this highly unique and skilled people. The parks he helped to landscape design still bear the markings of his work today. Each visitor to a Disney park still gets the opportunity to enjoy the creative things he did.