Animator Frank Thomas made movie magic in close to twenty Walt Disney Studios animated films. You can learn all about his life story here!
In Walt Disney's world of animation, there was a famous group of animators called the "Nine Old Men." This was how Disney himself referred to this group of animators, a bit of a joke since it was his way of playing on the term President Franklin Roosevelt used to refer to the Supreme Court. Frank Thomas was one of the Nine Old Men — and even if you aren't familiar with his name and history, you almost certainly know of one of his most popular Disney works. He's the man who animated the dogs nibbling a spaghetti noodle in the 1955 animated film Lady and the Tramp. If you've read about other Disney animators, then you've probably seen Frank's name come up alongside Ollie Johnston. Ollie was another animator, and these two were good friends and collaborators.
Frank was more than just an animator. A diverse man with many interests, he once said this:
"I'm not sure that I would have been satisfied just as a musician, or just as an actor or just as something else. The fascinating thing about animation was it gave me a chance to use all of these interests, working together, and they all helped each other. But I was very fortunate to be at the right place at the right time and to be able to live this kind of life."

---

---
As one of the most influential Disney animators in history, Frank has an interesting life story. Here it is in full!
Camouflage by Frank Thomas
Origins and Personal Life
Frank Thomas was born in Santa Monica, California on February 5, 1912, to parents Frank Thomas, who was a teacher, and Ina Gregg. As part of a family of five, he also had two older brothers, Lawrence and Welburne. His family later moved to Fresno, where his father became President of Fresno State College.
One of the interesting things about Frank was that he always knew he wanted to be an artist. When he was nine, he asked his father how he could make a living through drawing. Later, he attended Fresno State College, and his artistic pursuits blossomed into art involving motion pictures. In one class project, he directed a spoof of college life — a movie that ended up playing at local theaters.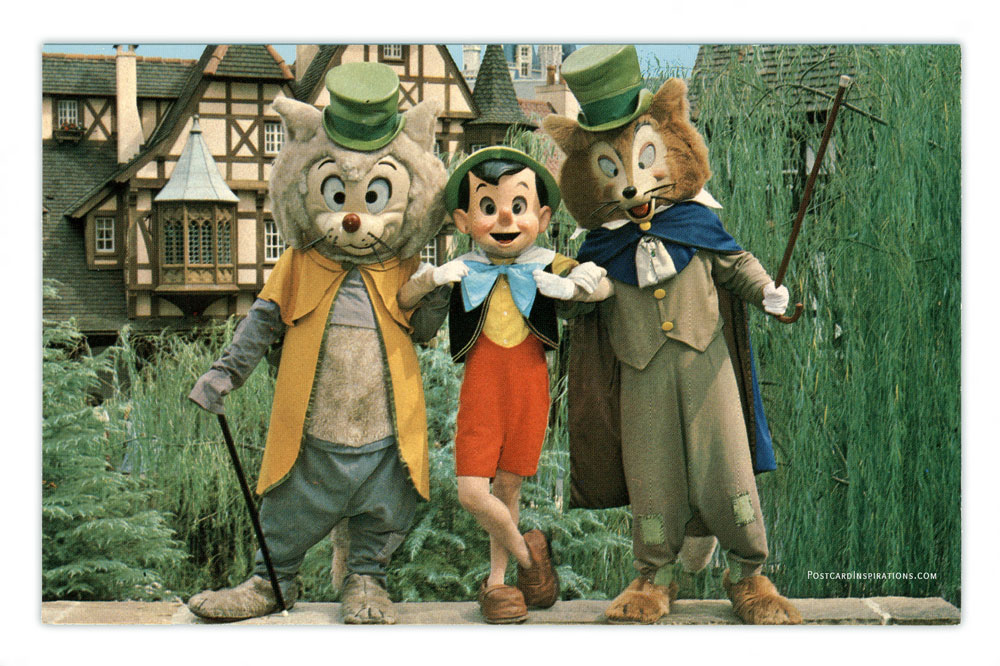 Pinocchio relaxes with his two "friends" Foulfellow and Gideon in Fantasyland. This is the happiest land of them all, where guests meet dozens of famous characters "come to life" from Disney animated film classics.
He later went on to Stanford University, where he majored in art. This was where he met lifelong friend Ollie Johnston. While at Stanford, Frank also drew cartoons for the school's newspaper and worked on The Stanford Chaparral, which was a campus humor magazine. He was a member of the Theta Delta Chi fraternity, too.
From Stanford, he went to the Chouinard Art Institute in Los Angeles. Here, he met another graduate of Stanford who had gotten a job at Walt Disney Studios. This man informed Frank of a job, and as of September 24, 1934, Frank was an official Disney employee — with the employee number 224 — working on the short film Mickey's Elephant. The rest is history!
It was many years after joining Disney before Frank would settle down. In 1946, after a long courtship, he married Jeanette Armentrout Thomas. The pair would later go on to have four children: boys Theodore, Doug and Gregg, and one daughter, Ann.
A "Whale" Of An Adventure. Pinocchio, Gideon, and Foulfellow ponder the fate of guests swallowed by Monstro the whale at the entrance to the miniature fantasy world of Storybook Land.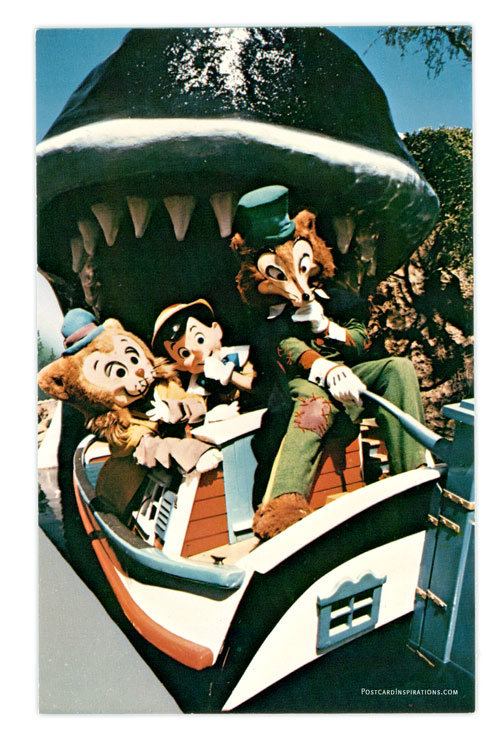 Frank's Famous Animations
Frank approached animation with a focus on the character's personality. To him, this was what brought some of Disney's most memorable characters to life.
"Until a character becomes a personality, it cannot be believed," he once said. "Without personality, the character may do funny or interesting things, but unless people are able to identify themselves with the character, its actions will seem unreal."
Over the course of his career with Disney, Frank worked on some of the most famous animated films in history. The list includes almost 20 animated features with titles including Sleeping Beauty, The Jungle Book, and One Hundred and One Dalmatians. His most iconic piece of work might just be the scene from Lady and the Tramp in which two dogs share a spaghetti noodle. But Frank also animated the dancing penguins in Mary Poppins, the dwarves crying over Snow White's body in Snow White and the Seven Dwarfs, and in Bambi, the scene in which Thumper taught Bambi to ice skate.
Speaking of Snow White and the Seven Dwarfs, this one was a particularly notable achievement because it was Disney's first full-length animated feature. And Frank's list of accomplishments goes on. For Pinocchio, he directed the main character's animation and the "I've Got No Strings" musical portion of the movie. In Cinderella, we can see his work in the wicked stepmother, and the Queen of Hearts from Alice in Wonderland is Frank's work, too. Frank also worked on Captain Hook from Peter Pan.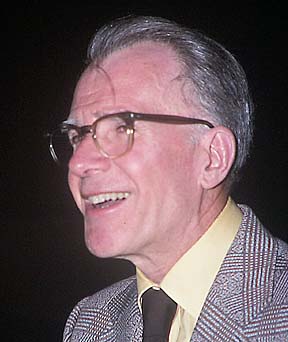 As a Musician
Frank was also a very well-known musician, too. For many years, he played in a Dixieland jazz group called the Firehouse Five Plus Two, which also included another Disney animator, Ward Kimball. Frank was the group's pianist. Together, the musical group traveled all over the U.S. to perform, and they even went on to record several albums. Today, one of their songs, "Milenberg Joys," can be heard on the Mark Twain Riverboat.
Retirement and Beyond
Frank retired from his work at Disney in 1978 after 43 years of animating with the entertainment giant. After going into retirement, he wrote several books about animation. One is The Disney Villain, and another title is Disney Animation: The Illusion of Life. There is also Too Funny for Words: Disney's Greatest Sight Gags, and Walt Disney's Bambi: The Story and the Film.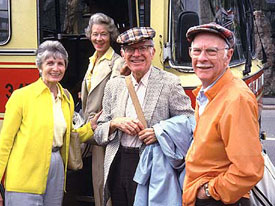 In 1995, Frank's son Theodore created a documentary about Frank and Ollie, one that is all about the amazing friendship these two men shared as they studied and worked together. If you want to watch it, you'll find it under the name Frank and Ollie. The two men have both also made cameo appearances in several Disney pieces. There's a villain called Dr. Frankenollie in Runaway Brain, which was made the same year as the documentary, and the pair is also featured through vocals in The Iron Giant and The Incredibles.
After a long life of making movies and inspiring the world, Frank passed away at the age of 92 on September 8, 2004. He's left a large legacy behind him including books, films, and animated shorts. Though he may be gone, his life's work will always be with us.