You may not have heard of Jimmy MacDonald, but you've certainly heard his voice and the sound effects he created. Learn more about his rich Disney career here!
When we think of all the historic people behind the Disney empire, Walt Disney himself along with many of the famous animators who created the movies and shows that we grew up with number among the first people to come to mind. But there was a lot more that went into Disney's animated magic than the animations alone. People with all kinds of talents came together to create these cultural phenomena.
Sound engineers like Jimmy MacDonald stand among the long list of skilled individuals who put these productions together. In fact, what you might not know about Jimmy? He eventually became the voice of Mickey Mouse himself. But you'll learn more about that as we explore Jimmy's fascinating history and the many talents he possessed!
Jimmy MacDonald's Origins
On May 19, 1906, Jimmy was born in Dundee, Scotland—but he wasn't there for long before life brought him to the United States. Richard William MacDonald was his father, and interestingly, his mother bore the name Minnie, perhaps foreshadowing what was to come for Jimmy! When he was only one month old, the family came to live in the United States, arriving on the SS Haverford bound out of Liverpool, England. Fifteen days after departing Liverpool, the family arrived in Pennsylvania.
---
---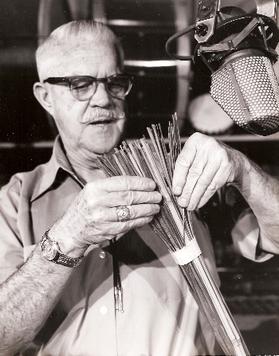 The Philadelphia area was Jimmy's childhood home, and as he grew to adulthood, he used a correspondence school to get a degree in engineering. In 1927, he moved to California and got his first job, which was with the Burbank Engineering Department.
Sound was Always Part of Jimmy's Life
One of the interesting things about Jimmy was that he was a musician, one who played percussion instruments. This is what landed him a job with Disney, in a roundabout sort of way. In his younger years, Jimmy started with an engineering job through Burbank—but after falling down a manhole, he was injured. So he quit that job and took up playing percussion for the Dollar Steam Ship Lines—and in 1934, this job led to him recording music that would be used in one of Disney's animations. From there, he landed a permanent contract with Disney and ended up going on to become the head sound engineer.
This wasn't the only musical venture in Jimmy's life. Many of Disney's animators became a part of a band founded in 1949. This would have been the Firehouse Five Plus Two, which was a Dixieland band that was extremely popular in the 1950s. Jimmy was a member of this band off and on from the time it formed all up until the band disbanded in the 1970s.
Creating Disney Sound for 48 Years
Perhaps Jimmy's greatest claim to fame was as a sound engineer. To create all the various sound effects that Disney used in animated shorts and movies, Jimmy used any number of contraptions, much of which he invented himself in order to produce specific sounds. Some of these inventions resembled Rube Goldberg machines. All told, there were more than 500 tools and devices that Jimmy used to create his sounds. Others were more simplistic—bundles of sticks, bottles or sheets of different materials to create simpler sound effects. Sometimes, he even used his voice. One animator, Xavier Atencio, said,
---
---
"If he couldn't get a particular sound he wanted from one of those gizmos, Jimmy would do it with his mouth."
There are a few places where Jimmy's work features that you don't often hear about. One of them was as the timpani player in Fantasia's opening, which is an uncredited role, but famous nonetheless given how popular the movie's score became. He also created the sound effects for Dumbo in The Reluctant Dragon. In 20,000 Leagues Under the Sea, if you've ever heard Kirk Douglas's humming—that's actually Jimmy's voice!
Jimmy was 40 years old when he was working on "Mickey and the Beanstalk," which was part of the Fun and Fancy Free package that came out in 1947. It was during this production that he became the voice of Mickey Mouse. Walt Disney himself used to do the voicework, but life and the studio had grown too demanding, and his voice had grown hoarse from smoking, so he asked Jimmy to carry on with Mickey's voicework. This was in 1947 and from there, Jimmy went on to continue voicing Mickey Mouse through 1977.
That's the thing about Jimmy. He wasn't just the man responsible for all the cool and crazy sound effects that can be heard in all those Disney films. He'd also done a lot of voice work, too. Chip the chipmunk was one of his roles, and he did some of the yodels, whistles, and sneezes for dwarves in Snow White. Later, after becoming the voice of Mickey, Jimmy also did Cinderella's voice work for Jaq and Gus, and he played the voice of the Dormouse that featured in Alice in Wonderland. In the 1960s, he did Goofy's voicework in the album Donald Duck and His Friends.
Retirement and Beyond
Jimmy retired in 1976, but even then, he still didn't stop working with sound. After retirement, he worked on The Many Adventures of Winnie the Pooh, The Rescuers, and The Black Hole. He also voiced Evinrude in The Rescuers after his retirement.
Jimmy continued to inspire up to his death in 1991 and beyond. Joe Herrington, who is principal designer for Disney Imagineering, said that Jimmy's library of sound effects was the "largest, most complex and complete" within the filmmaking industry. As a sound engineer, he was incredibly prolific, resourceful and creative.
Perhaps most interesting is that so many of Jimmy's audible creations went uncredited, and many who are familiar with the works of Disney have never heard his name. Even so, in voicing Mickey Mouse and other famous characters, his voice has been heard around the world.