Walt Disney did not just do movies. He also ventured into television in the 1950's. His brother Roy thought as early as 1950 that TV would be an excellent medium for the company, and he was correct. Walt's impact on television was groundbreaking and lasting. Here is the story of Walt Disney and television.
By the mid-1950s, Walt Disney was concentrating less on making animated movies (though his studio still produced them, with Walt being more hands-off with them), and more on other ventures. Having conquered the animated film industry, he moved into television as the third major independent movie maker to do so (Hal Roach and Jerry Fairbanks preceding him). His initial goal was to produce a TV show that would earn him enough money to finance the building of his big dream — the Disneyland theme park.
CBS and NBC both turned Disney down when he approached them about doing a TV show. However, ABC signed a deal with him in 1954. His show, which was called Walt Disney's Disneyland, focused on the building of Disneyland and showcased teasers for what the park would be when finished. It also devoted individual episodes to what "life" was like in each of the park's various lands, such as Adventure Land, Fantasy Land, Tomorrow Land, and Frontier Land. The show eventually moved to NBC in 1961, with the opening credits showing the entrance to Disneyland, as well as whatever of the "lands" of the park that each particular episode would feature.
Roy Disney believed as far back as 1950 that TV was an excellent venue for the Disney studios to both sell their products and add to their company's revenue. He even predicted that the company would eventually enter the world of TV and that when it did, it would be as an advertising medium for other Disney products. He was right on both counts.
ABC agreed to front the money for the building of Disneyland as long as Walt and his company produced money-making TV shows for them. The first show they produced, Walt Disney's Disneyland, was an anthology show that featured cartoon shorts, live-action features, and older material from the company's archives. The show itself was a huge success with audiences and brought abundant profits to ABC. ABC liked the results of its TV experiment with Walt so much that they asked to produce a daily Disney show. The result was The Mickey Mouse Club, which debuted in 1955. This was a variety show for children, and it included merchandising for all kinds of Disney products, as well as the products for other companies that worked with the Disney studio.
---
---
Because of Walt's foray into television, the Disney studios first got involved in music production. A segment on the Walt Disney's Disneyland show called Davy Crockett was a five-part mini-series and was incredibly popular. The Ballad of Davy Crockett, which was the theme song to the mini-series, became popular the world over and sold ten million copies. Because of this, Walt formed a record production and distribution company called Disneyland Records.
Also, because of Davy Crockett's popularity, the character was featured in Disneyland's Frontier Land, along with other important and well-known people from America's Old West history.
The show was renamed Walt Disney Presents in 1958, and moved to Friday nights; it stayed there until 1960 when it was moved to Sunday nights, and there it stayed for twenty-one years, long after Walt himself was gone. Under the show's new name, it became the first stereo simulcast on television, when it showed an episode called The Peter Tchaikovsky Story to promote Disney Studio's newest animated movie, Sleeping Beauty. It was a three-channel stereo, with FM radio stations around the country carrying the left channel, and AM radio stations carrying the right channel. While this was going on, ABC broadcast the show in mono, making it a three-channel stereo production.
In addition to episodes like these, as well as more episodes showcasing new additions to Disneyland, there were a lot of Western-themed episodes on the show, other episodes set in the present day, and even some mixed live-action and animation episodes where animated Disney characters were shown interacting with Walt.
With the basic format of the show remaining the same, the show moved to NBC in 1961, because that network had begun broadcasting in color, and Walt wanted to take advantage of it. Also, Walt was not on friendly terms with ABC anymore at that point, as the broadcasting giant did not sell its stake in Disneyland as it had promised, and did not do so until 1960. Because Walt insisted on filming many of the earlier episodes of the show in color, even though ABC was going to be showing them in black and white, there was plenty of back material for NBC to show in color when it acquired the show.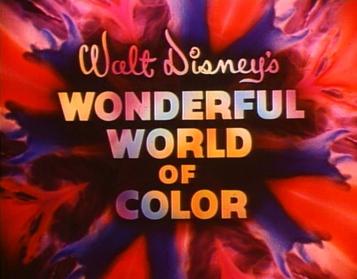 Also, because all but three of Walt's movies had been filmed in color (the exceptions being The Shaggy Dog, The Absent-Minded Professor, and Son of Flubber), his movies could be shown on NBC for the whole family to enjoy in color, as well.
---
---
To make sure audiences knew color was the new thing in town on Walt's TV show, the name of the show was changed once again to Walt Disney's Wonderful World of Color. The name change occurred at the time that NBC acquired the show. It kept that name until 1969, at which time all of the three major networks were broadcasting in color with all of their shows.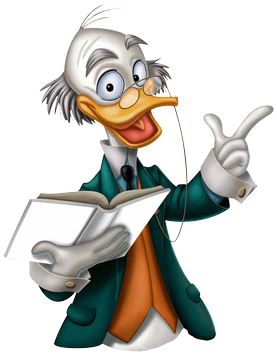 The first episode of the show after its move to NBC actually dealt with the process of creating a TV show in color, and that process was explained by a new Disney character named Ludwig Von Drake. Ludwig Von Drake was a bumbling professor who spoke with a thick German accent and was explained to be Donald Duck's uncle. Ludwig Von Drake was the first Disney character created for television and not a character that had previously appeared in a Disney movie.
Walt Disney himself was a big draw of the show, and after he died in 1966, NBC kept him in the opening credits and "host sequences" of the show for a long time, using previously filmed material, before gradually phasing him out. Even without Walt, the show lasted until 1981, making Walt Disney an American TV icon.