Holidayland is a lost part of the Disneyland park in California. It was only open for a few years in the late 1950s and early 1960s, but it is still remembered fondly today by those who went to it (unless they were little kids at a company picnic). This is the story of Disneyland's lost park, Holidayland.
While it is no longer there, Holidayland was a beloved part of the original Disneyland park for a time. It was a nine-acre picnic ground that was located on the western edge of the Disneyland park, close to what is now New Orleans Square. It is considered part of the "lost" Disneyland.
Holidayland opened in June of 1957, two years after Disneyland itself opened. This part of the park had its own entry gate and had the capacity to accommodate seven thousand guests if anyone wanted to have a large event there, or if the park did. There were playgrounds, a baseball field, a horseshoe court, a volleyball court, and what was billed as the "world's largest candy-striped circus tent" there, as well as other things of the same ilk. There were also food, drink, snack, and other concessions there that guests could purchase, including beer. This was important, as Holidayland was the only part of Disneyland that sold beer at that time.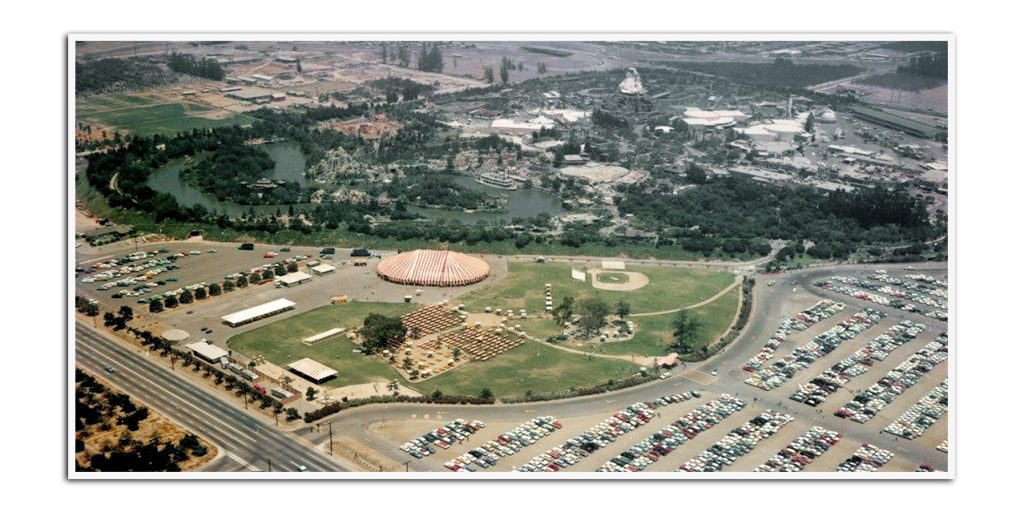 Holidayland was only open until September of 1961. There were several reasons for this. For one, there was an annoying lack of shade for hot days in Holidayland. It also had no nighttime lighting, and no restrooms—a disadvantage for a place that sold drinks. The people at the Disney Company also thought Holidayland just did not have that special, distinctive "Disney flavor." So, it was several things that lead to Holidayland being closed so soon after it opened, not just one thing, and not because it was not a popular part of the park.
---
---
Where Holidayland once stood now includes the Matterhorn, Haunted Mansion, and Pirates of the Caribbean rides, as well as Disneyland support facility buildings.
When Holidayland was first conceived, Walt Disney and his designers thought of it as a place that would play on people's nostalgia for simpler times past. It was to have the look of a turn-of-the-century park (turn from the 19th to the 20th centuries). In addition to the public park-like attractions, the open spaces of Holidayland were to be used for a circus to occasionally perform.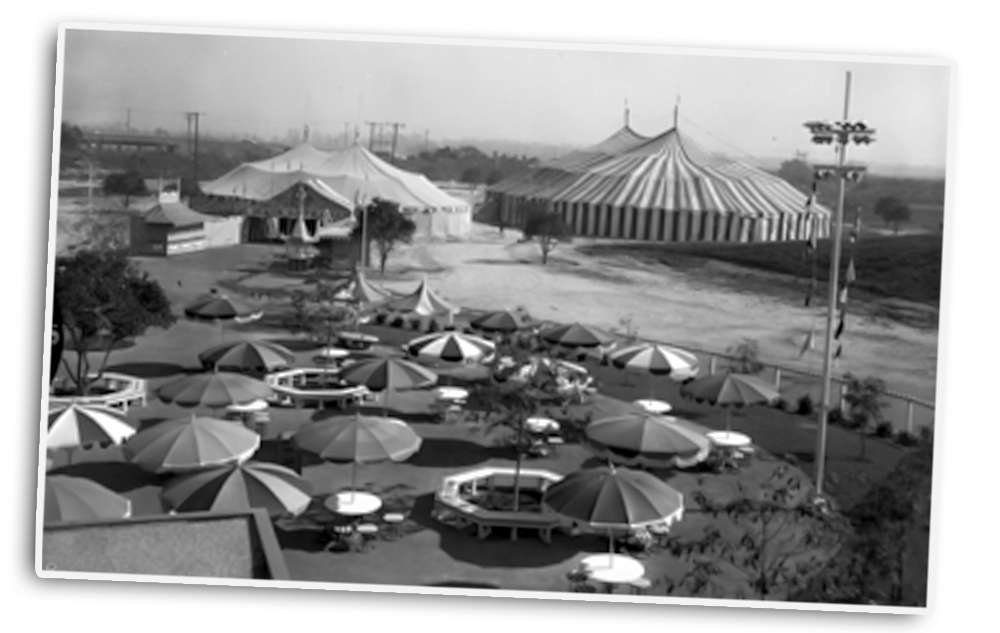 When Disneyland was being designed, it soon became apparent that there was no room for Holidayland. The land that it was supposed to be built on became a minor picnic and recreation area (sometimes referred to in modern times as Recreationland, though it wasn't called that then… in fact, the picnic area had no official name). Some minor holiday decorations were put up there seasonally.
The Mickey Mouse Club Circus came to Disneyland to perform in November of 1955 and did their show in the Fantasyland part of the park. They performed on a special basis there until January of 1956, and their entire performance was themed to the Christmas holidays. Promotional material on the circus referred to it as Holidayland, and newspaper articles of the time declared this prototype Holidayland to be a huge success. Articles mentioned that kids at a lot of popcorn there, and that Walt Disney himself came out and has as great of a time there as any of the guests did.
This reference to Holidayland in the local and national media made Walt and his business partners go back to their idea for a Holidayland section of the park. A way was found to incorporate it into the park this time, and it joined Disneyland as an official section of the park in June of 1957. It kept all of the old-timey public park amenities Walt Disney first envisioned for it, but it did not include holiday decorations, which made the decision to keep the name Holidayland for it somewhat of a mystery.
Because Holidayland could hold around seven thousand people, it was ideal for large group events. Because of this, many companies rented out the area to have their summer company picnics there. It was a great opportunity to give their employees some Disney magic, especially those who might not otherwise have an opportunity or the means to go to the park. It turned out that those big company parties became the main use for Holidayland, and because they were usually held on the weekends, that part of the park was largely abandoned during the week when people were at work.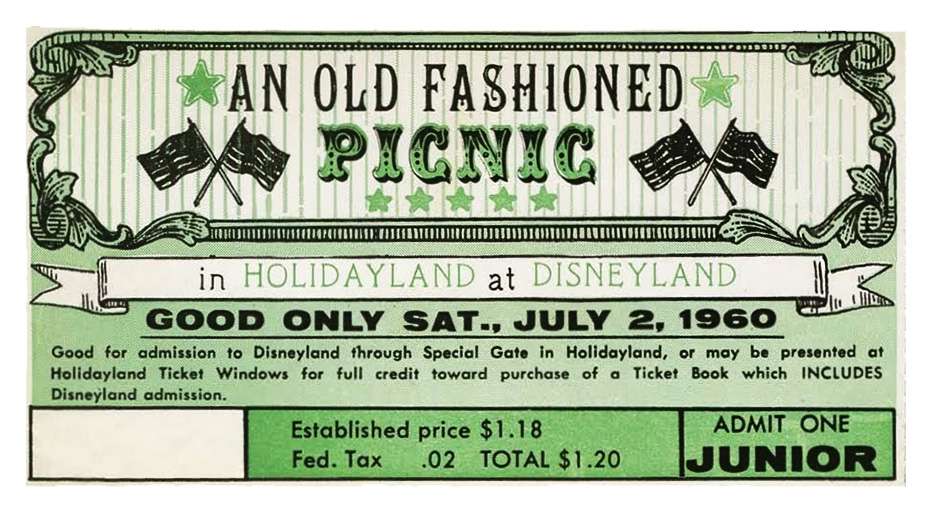 Actually, Holidayland was more geared toward adults from the beginning, despite its old-timey public park feel. The kids of the 1950s weren't interested in that kind of thing. They wanted to go on the animatronic rides in the rest of the park. In fact, some kids of that era who went to their parents' company picnics at Holidayland found it a bit depressing to be at this old-fashioned park out of the early 1900s, when the newest in theme park technology was visible right next to them, and they couldn't go into it.
After Holidayland closed, the land where it was located was empty for a few years, until work on Pirates of the Caribbean and the Haunted Mansion began on it. Yet, Walt Disney wasn't totally ready to abandon his idea of a Holidayland.
When EPCOT Center in Florida opened in 1982, its World Showcase was something of a theme park masterpiece, showcasing authentic lifestyles from a variety of different countries around the world. The people at Disney thought such a thing would be a great addition to Disneyland in California. Thus, the development of a California version was conducted at the same time as the Florida version was being built.
Because Disneyland still only consisted of the original park and a hotel at that time, the Walt Disney Company decided that a modified World Showcase could be located behind the Haunted Mansion, on some of the empty land that used to be Holidayland. This modified World Showcase would have celebrated not the entire cultures of the countries represented there, but their holidays, and would have been called World Holiday Land. Each country represented would showcase the way their culture celebrated both local and worldwide holidays.
Of course, that did not ultimately happen, as it was decided there simply was not enough room for it to be built in the way the Imagineers wanted it. But, if it had been, it would have been the inspirational successor to Walt Disney's Holidayland.