Karen Pendleton was one of the original Mouseketeers on The Mickey Mouse Club. She stayed with the show for its entire time on TV, then quit acting after that. In fact, she went on to lead a pretty normal life, though she was always fond of her Mickey Mouse Club years, and always willing to attend reunions. This is her story.
Karen Anita Pendleton was born in 1946 to a set designer father and a housewife mother. She was recruited to audition for The Mickey Mouse Club when executives and producers from the studio made a sweep of local dance studios looking for talent. She was cast on the show, and was one of its youngest cast members. She was also one of only nine cast members from the first season to stay on the show for the entire time it was in production.
After the end of the show, Karen toured Australia with some of the other cast members for a couple of years. On the TV show and in live performances, Karen was often paired with Cubby O'Brien, because they were the two youngest cast members on the show. After the first season of the show, Walt Disney whittled down the original twenty-six cast members to nine of them, keeping the kids who had the best work ethics and personalities. Karen was one of the kids he kept on the show.
Karen and her usual partner on the show, Cubby, were easily recognizable for their prominent part in the show's concluding song, which ended each episode of the show. Karen and Cubby started out the closing song together, looking into the camera and singing the first line of the song, "Now it's time to say goodbye to all our family." They appeared in the closing song for the duration of the show.
---
---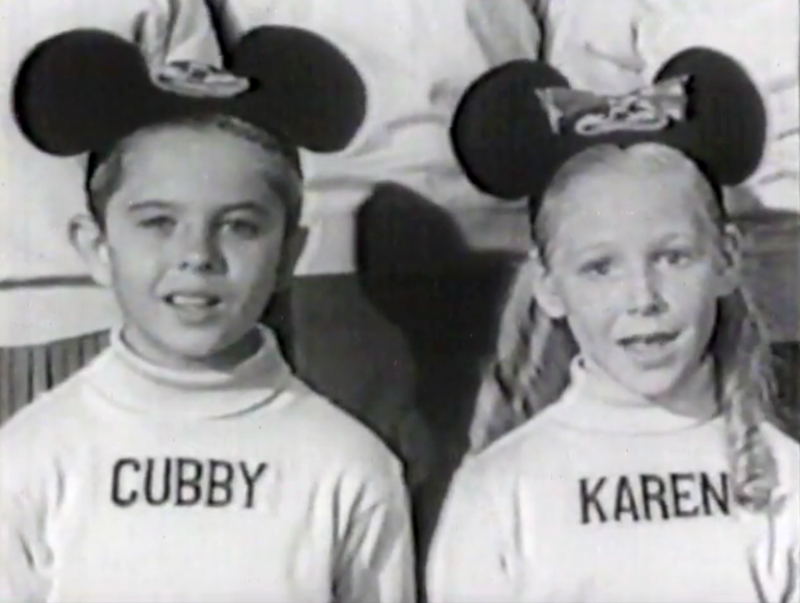 The show was incredibly popular with both kids and their parents, who trusted the wholesome reputation of the Disney Company implicitly. The ratings were excellent. The only reason the show was canceled after only three seasons is that the contract negotiations between the Disney Company and the ABC network where the show aired did not work out in a way the Disney Company approved.
After the show was done, and Karen had finished her tour of Australia, her father, who worked behind the scenes in show business, was adamant that Karen not continue to pursue a career in the entertainment industry. Since he was a member of the entertainment industry and saw what it was like, it may be considered no surprise that he did not want his daughter involved in it as she entered her teen years. In fact, since he was so against her continuing as a TV performer, it is slightly strange that he allowed her to become a TV performer as a young child in the first place.
With her father's adamant disapproval of Karen being a TV performer as she entered her teen years, there was not much else for Karen to do but to become a typical teen. So, she went back to "civilian" life, and became a regular kid once more.
Karen's nephew once said of his aunt's time on The Mickey Mouse Club," She never regretted that it all ended. It always remained a very positive memory."
Karen did not seem to care that she was no longer in show business. It seemed like it had just been a hobby for her, and nothing more. She enjoyed dancing and singing, but was not that much of a fan of acting. After the show, Karen attended North Hollywood High School, and after graduation went to college at Fresno State University. At college, she obtained a Bachelor's degree in Psychology. Later on, she went back and obtained her Master's degree in the same subject.
In 1970, Karen married Del Michael De Lauer, and they had a daughter named Staci in 1973. Karen and Del divorced in 1985. A couple of years before her divorce, Karen was in a car accident in 1983. This accident injured her spine, and she was paralyzed from the waist down after that, for the rest of her life. This provided Karen with an intimate look at the many inequalities and indignities that disabled people were subjected to in this country, and so she became an advocate for disabled people. Karen served for years on the California Association of the Physically Handicapped. Also, she worked at a battered women's shelter, which was another cause about which she was passionate.
In spite of the difficulties she faced after the accident, Karen still attended Mickey Mouse Club reunions. These events, in fact, remained a favorite activity of hers for the rest of her life.
Karen's daughter Staci said of her mother attending Mickey Mouse Club reunions,
"It gave her the opportunity to relive great memories and to meet so many Mickey Mouse Club fans who watched the show as kids and loved her".
Other former Mouseketeers mentioned pushing her around in her wheelchair at Disneyland during Mickey Mouse Club reunions and being amazed at how many people still recognized her and remembered her with affection. Those who knew her best said that though she had the right to be cynical about what had happened to her, she never was and that she loved it when people would come up to her and tell her how much they loved her and the show. They remembered there always being a positive aura around Karen.
Karen appeared in several Mickey Mouse Club reunion shows and parades at Disneyland over the years. She also attended fan conventions. It was something that she truly enjoyed. After she passed away in 2019 at seventy-three years old, her daughter said," My mom loved her Mouseketeer family. Getting together with her co-stars was always a high point. It gave her the opportunity to relive great memories and to meet so many Mickey Mouse Club fans that watched the show as kids and loved her. Many told her that they named their daughters Karen in her honor."
That is quite an honor, indeed. It showed just how much the fans of the show loved Karen, and how special she was to them.
After Karen passed away, she was survived by her daughter Staci, and two grandsons, Luke and Griffen.