What new attractions will the future of Tomorrowland bring? Only time will tell. I know one thing, though. Just like everything that comes from Disney, whatever it is will be something amazing.
You probably know Tomorrowland as one of the themed lands at Disney theme parks, home to famous rides such as Space Mountain. But if you're like me, you probably aren't as familiar with the history of Tomorrowland.
One of the five original themed lands at Disneyland, Tomorrowland first opened in July 1955. It was the last land to be completed, and some of its exhibits were not even finished when the theme park opened.
It boasts a variety of attractions that were updated as the years went on in order to maintain a futuristic atmosphere.
---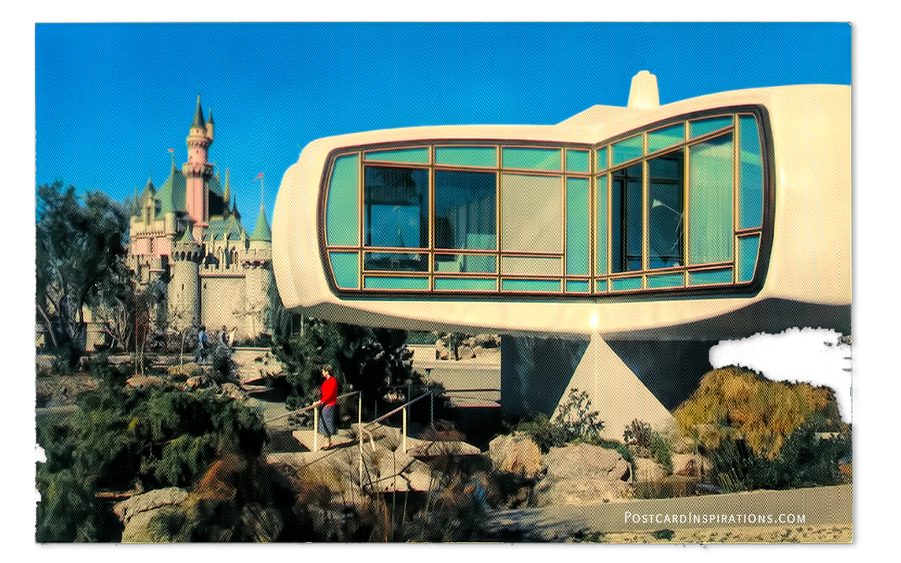 ---

---

House of Tomorrow – invites guests to tour the home of the future, as sleeping beauty's medieval castle makes a dramatic comparison in the background.
---
Early Years: Tomorrowland's Original Attractions
Tomorrowland was meant to depict the future, with early plans featuring suspended monorail systems and moving sidewalks. This was modeled after what Walt Disney and his colleagues thought the year 1986 would be like. Some of these early attractions include:
Circarama Theater: Sponsored by American Motors, Circarama Theater used a technique called Circle-Vision 360° to create an immersive viewing experience. It consisted of nine screens arranged in a circle and nine cameras mounted on automobiles to capture cities, highways, and landscapes. This technique was used to show various films, including "A Tour of the West," "Wonders of China," "America is Beautiful," and "American Journeys." Circarama eventually became the Circle-Vision Theater.
Rocket to the Moon: This attraction simulated a trip to the moon and was sponsored by Trans World Airlines. The Moonliner rocket, a well-known icon of Tomorrowland associated with this attraction, was actually the tallest structure present in Disneyland until the Matterhorn was built. In 1967, this attraction was renamed to Flight to the Moon.
Autopia: This is the only attraction from the very beginning of Tomorrowland that still remains in Disneyland. Sponsored by Richfield Oil, Autopia allowed guests to get behind the wheel of a car and drive around an enclosed track. At the time, the United States' highway system was still being developed, so Autopia gave guests a taste of what multi-lane highways would be like. The name was created by merging the words "automobile" and "utopia."
House of the Future: Completed two years after the opening of Tomorrowland, House of the Future depicted what a house might look like in the year 1986. It was sponsored by Monsanto. The house included features like a microwave oven, adjustable height sinks, touch-tone phones, and a sonic dishwasher. The ride is no longer functioning, and the foundation of the house now serves as part of Pixie Hollow in Fantasyland.
In 1956, Disneyland added the Skyway aerial gondola ride, linking Tomorrowland with Fantasyland, and in 1958, a station was built at Tomorrowland for the Disneyland Railroad. These new developments provided easier access between Tomorrowland and other parts of the theme park.
---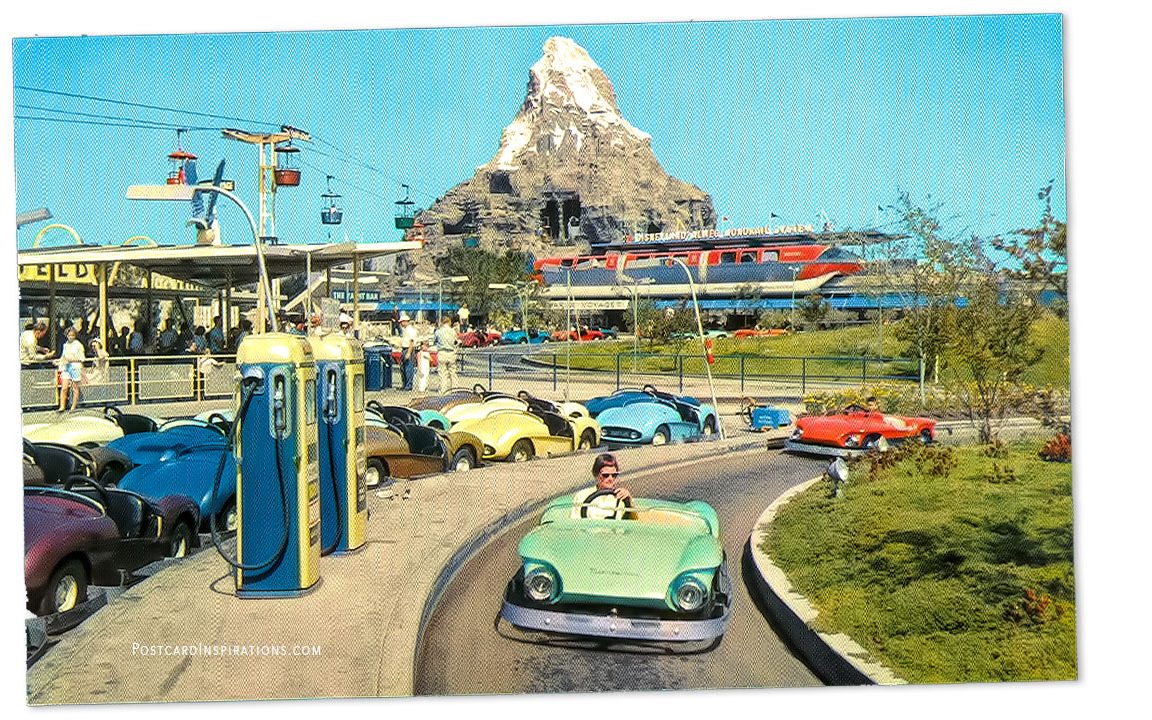 Autopia — Disney's most popular transportation — the Autopia Freeways — includes four separate "Super Autopia" highways. Over the multi-level Fantasyland and Tomorrowland Autopias, youngsters of all ages drive individual sports cars, including 75 new Mark V Autopia cars. It's the perfect place for dad to give his kid that first driving lesson.
---
Better than Yesterdayland: A New Tomorrowland
In October 1966, Tomorrowland closed down for reconstruction. Walt Disney had ideas to redesign the area and make it even more futuristic. It would be better than "Yesterdayland," which is what Walt called the original Tomorrowland. Sadly, Walt Disney passed away in December 1966 before he could see the result of his dreams.
---
---
The Walt Disney Company pushed forward with Walt's plans. As Vice President of Disneyland Joe Fowler said, "Disneyland was a very special place to Walt. But Disneyland also is a very special place for all the people who come here… As long as we continue to carry out our responsibility and obligation to the public, Disneyland will always be Walt's dream come true: 'a source of joy and inspiration to all the world.'" Walt lived on in his creations.
---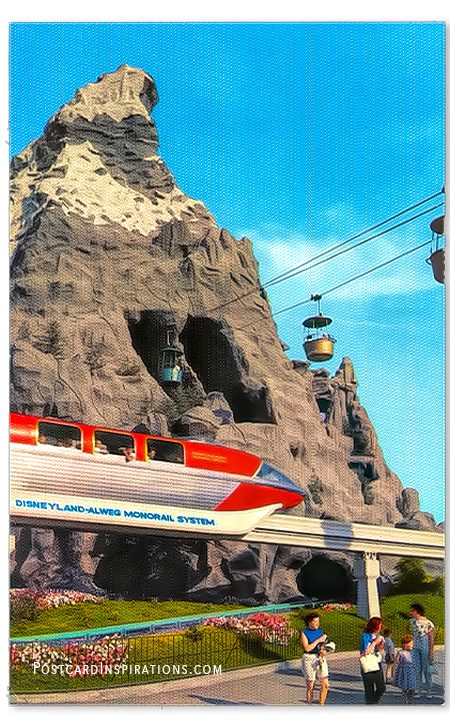 Matterhorn and Monorail – First in America, the Disneyland-Alweg Monorail System traverses the area overlooked by the Disneyland Matterhorn Mountain. Guests also enjoy the sky ride which goes through the Matterhorn.
---
Reconstruction of Tomorrowland was completed in 1967. These are some of the new additions that were part of the revamped Tomorrowland:
Adventure Thru Inner Space: In this ride, guests traveled through the world of a snowflake and even into an atom from a microscopic perspective. The attraction was centered on the Mighty Microscope, made of concrete, and sponsored by Monsanto. The lore behind the Mighty Microscope is that scientists reversed the properties of a typical microscope, giving it the ability to shrink objects. Monsanto ended their sponsorship in 1977, so the logo and almost all other references to Monsanto had to be removed from the Mighty Microscope. Now, the famous ride "Star Tours: The Adventures Continue" sits where this attraction used to be.
Carousel of Progress: This attraction first debuted at the 1964-1965 New York World's Fair in collaboration with General Electric, and after its success, it was implemented in Disneyland. The ride explores the impact of electricity on American homes in the 20th century. Due to dwindling audiences, the ride was later moved to the Magic Kingdom in Disneyworld, where it still runs today.
Space Mountain: This ride was planned for the 1967 relaunch of Tomorrowland, but was put aside after Walt Disney's death. However, in 1975, Space Mountain opened at the Magic Kingdom in Disneyworld because there was a need for a thrill ride attraction. When this saw great success, Disneyland decided to implement its version of the ride in 1977. Though it underwent various refurbishments in the future, Space Mountain is still one of Tomorrowland's popular rides.
---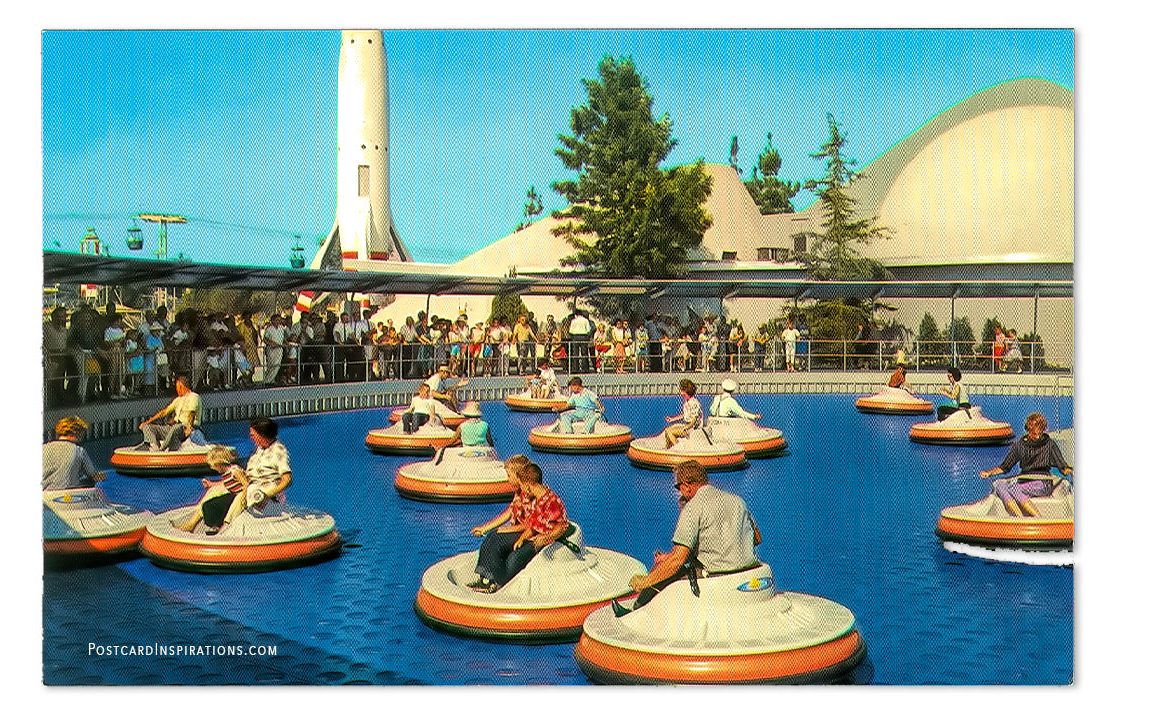 Flying Saucers – fact or fancy, "Flying Saucers" have a place in Disneyland's Tomorrowland, where a guest may pilot his own ship in free flight, above the ground.
---

The Tomorrowland of Today
In 1998, Tomorrowland underwent yet another revamping. Drawing on the likes of Jules Verne, this Tomorrowland featured a heavy theme of retrofuturism. In later years, as new Disney-Pixar movies came out, Disneyland added new rides to capture fans of these movies.
Rocket Rods: Rocket Rods is a high-speed thrill ride that is meant to be a futuristic rapid transportation system. The entrance for this ride was at the former Circarama Theater. The ride gave guests brief, up-close views of rides such as Space Mountain, Autopia, and Submarine Voyage. The ride was closed in 2000 for refurbishment—there were various mechanical failures, and it usually broke down at least once a day. Rocket Rods never reopened, though the track still stands.
Buzz Lightyear Astro Blasters: This ride takes inspiration from House of the Future in that guests are scaled down to the size of a toy. It is located where the queue space for Rocket Rods used to be.
What new attractions will the future of Tomorrowland bring? Only time will tell. I know one thing, though. Just like everything that comes from Disney, whatever it is will be something amazing.