Disney has a new set of 24 Galaxy's Edge postcards that are so cool… this new themed land is located at Disneyland and Walt Disney World. It is meant to be a fully immersive Star Wars experience for visitors and it's continuing to expand with new rides. If you love Star Wars, you will not want to miss it. Read on as we explore the outer reaches of the Galaxy's Edge.
The Galaxy's Edge area of the Disney theme parks is based on the Star Wars movie franchise. Disneyland in California and Walt Disney World in Florida host this themed area in their parks. It includes fourteen acres at both parks. Galaxy's Edge is fictionally located in the village of Blackspire, on the frontier planet of Batuu, and includes shops, restaurants, entertainment, and other attractions to enhance the enjoyment of the park visitors.
Galaxy's Edge was announced as a building project at the California and Florida parks in 2015, and construction began on them in 2016. The California one opened first, in May of 2019. The Florida one opened a few months later, in August of that year. Scott Trowbridge, a Disney Imagineer, oversaw design and construction at both locations.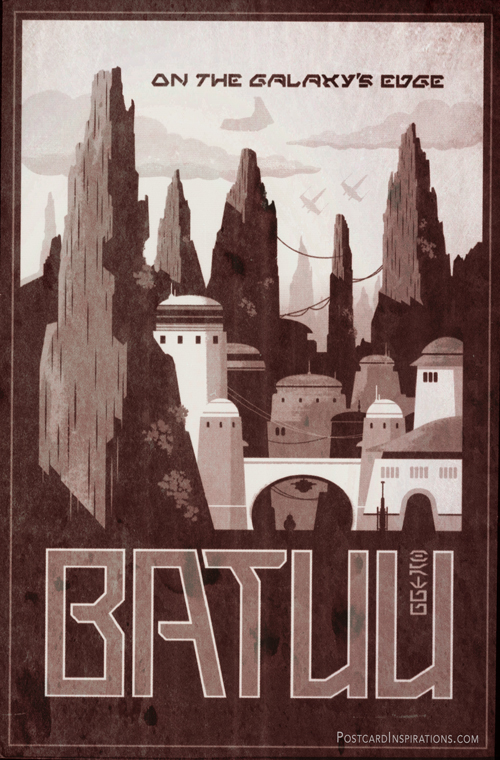 Batuu is home to those who prefer to stay hidden. Located on the galaxy's edge, Batuu was once a busy crossroads in the days prior to lightspeed. With the rise of hyperspace travel, however, the world — notable for the lush trees and mountains spikes that decorate its surface — was left behind, its prominence lost to planets on more popular trade routes.
---
---
When announcing the construction of Galaxy's Edge, Walt Disney Company Chairman and CEO Bob Iger said that this land would be:
"…occupied by many inhabitants; humanoids, aliens and droids … the attractions, the entertainment, everything we create will be part of our storytelling. Nothing will be out of character or stray from the mythology."
Bob Chapek, the chairman of Walt Disney Parks and Resorts said that Galaxy's Edge would:
"…will introduce you to a Star Wars planet you've never seen before — a gateway planet located on the outer rim, full of places and characters familiar and not so familiar."
Scott Trowbridge added that Galaxy's Edge was built to:
"…make it feel as if you just walked into one of the movies… Bringing Star Wars to life in the physical world gives us the opportunity to play with a whole bunch of things we've never done before… to really engage all of the senses. What does that street feel like? What does that animal smell like? What does blue milk taste like?"

---

---
Scott Trowbridge announced in 2017 that the name of the planet that would be home to Galaxy's Edge would be called Batuu. This planet appeared in the 2018 Star Wars novel called Thrawn: Alliances. The Black Spire Outpost on Batuu was mentioned briefly in the 2018 movie Solo: A Star Wars Story. Marvel Comics issued a five-issue comic mini-series in April of 2019 that introduced readers to Batuu and the Black Spire Outpost.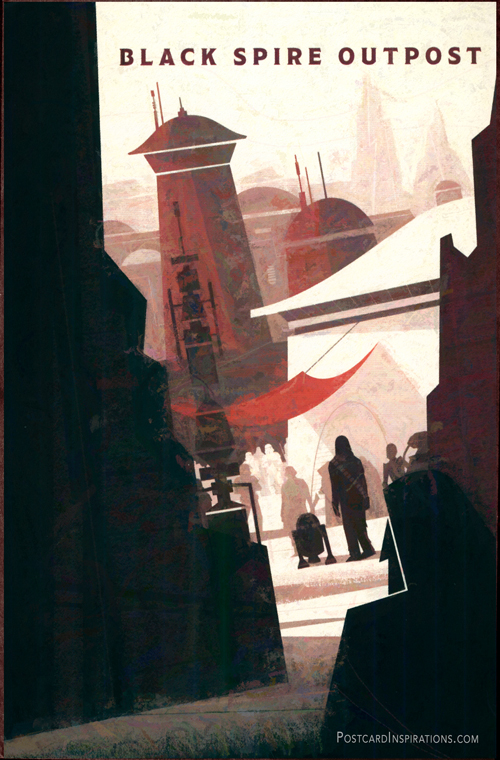 A thriving port for smugglers, rogue traders, and adventurers traveling between the frontier and uncharted space on the planet Batuu. Significantly, it has also become a safe haven for those looking to avoid the attention of the First Order.
Star Wars creator George Lucas attended the opening of the California Galaxy's Edge location, along with Star Wars actors Mark Hamill Harrison Ford, and Billy Dee Williams. Bob Iger from the Walt Disney Company explained that a new planet was created for the parks, rather than a previously known Star Wars destination like Tatooine or Hoth because Disney wanted guests to go into the parks with no preconceived notions of what it should be like. Instead, they created a new planet in the Star Wars universe, and guests could feel like they were in a Star Wars movie that required going to a previously unseen location in that universe.
The description of Galaxy's Edge at its opening ceremony was:
"This used to be a vibrant trading port back in the old sub-lightspeed days, but now with the advent of hyperspace, its prominence has kind of fallen and faded a little bit which has made it a great spot for those who didn't want to be on that kind of mainstream path. The smugglers, the bounty hunters, the rogue adventurers looking to crew up, the people who don't want to be found."
There were some real-world locations on Earth that served as inspirations for Galaxy's Edge, including Morocco, Istanbul, and Jerusalem. Architecture, culture, and weather from these places are all used in the design of Galaxy's Edge. The concept art for the original Star Wars movie trilogy was also used to help develop the look of this new land.
The events happening at Galaxy's Edge are supposed to be taking place between the movies The Last Jedi and The Rise of Skywalker. The First Order and the Resistance both have a presence at Galaxy's Edge. Millennium Falcon: Smugglers Run is a ride that allows passengers to control the Millennium Falcon as it flies a custom secret mission. Guests are placed in the middle of a battle between the Resistance and the First Order as a part of this ride.
This ride is nearly twenty-eight minutes long, with more than three hundred animated objects on it. It is located in the largest building the Disney Company has ever built for a dark ride. Characters from the Star Wars universe who appears in this ride include Rey, Poe, Finn, Kylo Ren, the voice of Nien Nunb, and Yoda.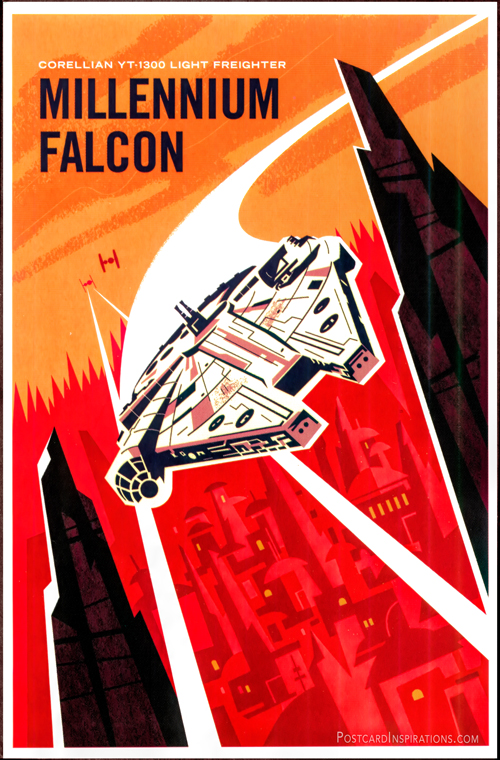 Despite her humble origins and shabby exterior, the Millennium Falcon has played a role in some of the greatest victories of the rebel alliance. The fountain looks like a worn-out junker, but beneath her hull she's full of surprises and adventures.
Other interesting features to Galaxy's Edge include the Oga's Cantina; interestingly, this is the first place in the Disneyland park in California to sell alcoholic beverages. Those who ride the Millennium Falcon before coming into the cantina will find that they are treated there according to their performance on the ride. This is to improve the overall Star Wars immersive experience of Galaxy's Edge. The Disney Parks blog says that if you perform skillfully on the Millennium Falcon ride, you may earn additional galactic credits to spend, but bringing the ship back in a banged-up condition may put one on the list of a bounty hunter, which could cause trouble if one shows up at the cantina.
Other Star Wars-related things visitors will find at Galaxy's Edge include a toy stall managed by a Toydarian, which is an alien species from Tatooine that was seen The Phantom Menace movie. Kylo Ren makes a daily appearance at the TIE Echelon. The Echelon was designed by Colin Trevorrow when he was working as a director on Star Wars Episode IX before he was replaced as the director.
Guests who desire a fully immersive Star Wars experience will find all that and more at the Galaxy's Edge parks at both Disneyland and Walt Disney World. Galaxy's Edge has something every Star Wars fan will enjoy.